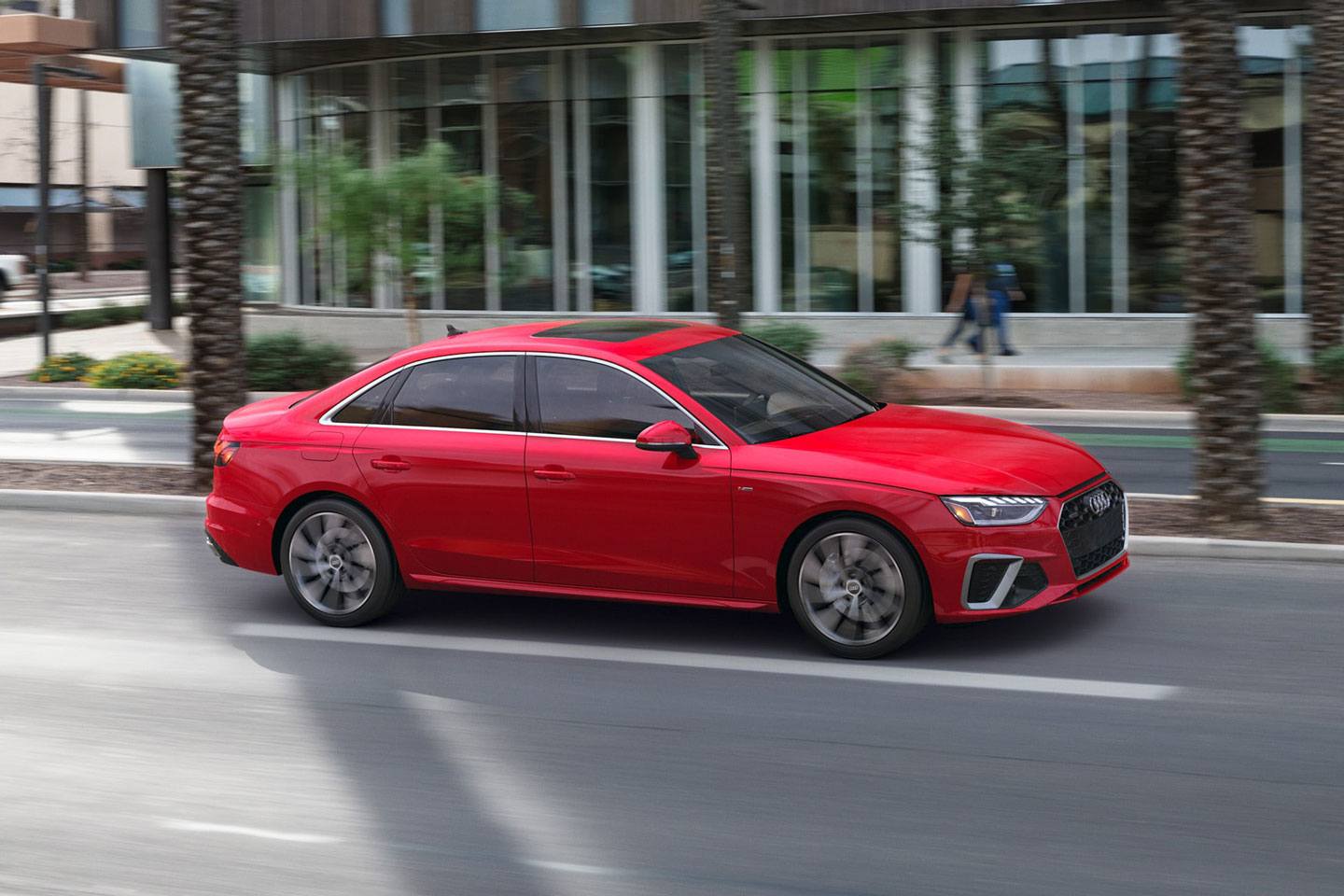 The 2022 Audi A4 is offered in three versions that let you choose the level of equipment that best suits your needs and your budget.
The 40 and 45 TFSI Komfort
The most affordable version of the 2022 Audi A4 is the 40 TFSI Quattro Komfort. This model benefits from all of the features you expect from a premium sedan, such as the wireless Apple CarPlay integration, the 3-zone automatic climate control, the leather-wrapped power driver and passenger seats, and the lane-keeping assist, among many others.
If you want a sportier driving experience, the standard 201-horsepower turbocharged engine is replaced by a more powerful, 261-horsepower unit in the A4 45 TFSI Quattro Komfort. This engine is standard in the two other trim levels.
The 45 TFSI Progressiv
If you want a bit more luxury and a number of additional features, the 2022 Audi A4 45 TFSI Quattro Progressiv is the next step up in the lineup. Starting from the base model, this version adds such elements as the adaptive headlamps, the front and rear parking sensors, the heated steering wheel, the ambient lighting system, the integrated navigation system, and the Amazon Alexa integration.
The 45 TFSI Technik
If you want the most luxurious and the most advanced 2022 Audi A4 model available, the 45 TFSI Quattro Technik is for you. This version is characterized by the presence of the Matrix LED headlamps, the wireless phone charger, the Bang & Olufsen 3D sound system, the top-view camera, the adaptive cruise control with stop & Go, and the active lane following assist.
No matter which 2022 Audi A4 version you choose, you will benefit from a luxurious and practical sedan that is elegant and capable, thanks to the standard Quattro all-wheel-drive system that won Audi many trophies in rallying over the years.